You can now set horizontal (vertical) orientation options for widgets with inline elements.
I wrote in the last article, but now you can place the widget without setting multiple columns!
You can place multiple widgets in one column and use the following option settings.
Select the column you want to set.
Edit Columns > Layout > Horizontal Align (horizontal) or Vertical Align (vertical).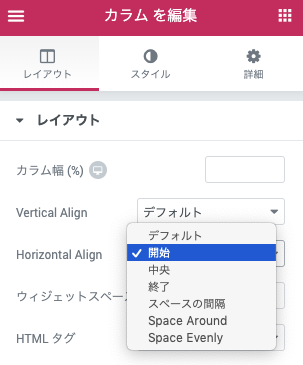 The picture below shows the state you have set.
From the top
And start
And Central
And end
Space spacing (first and last widgets are left and right.Other spaces equally)
Space Around (widgets are arranged evenly.Left and right space is 1/2 of the space between the widgets)
Space Evenly (widgets are arranged evenly.)
* The border is set to the column to make it easier to see the spacing.