You can now use the flexible layout Elementor V2.5!
This is great.Transcendence is convenient.
Elementor depends on the MAX W.I can't go back to Dreamweaver anymore.
You can use the flexible layout (Flexible layout) for intuitive layout adjustments.
Because I do not understand well, let's make it first.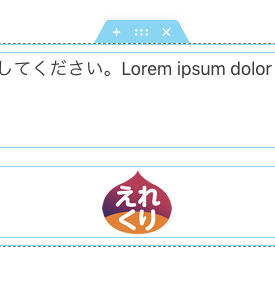 Because it is easy to understand when I put an image, I put a suitable image from an image widget.

Edit Image Widget Image > Advanced tab > Custom Positioning.
Width: inline (auto)
Location: Absolute (absolute position)
.You can now place the image widget in your mind!

The top right of the element is a crosshair, so you can drag to move it to a free position on the stage.
Postings each tablet, mobile adjustment in the lower left Responsive Mode.

* Please Note that when the position is Absolute or Fixed, it will be displayed.
"I do not use it often rather than the best practice of responsive Web design ~" And I use it because it is convenient.