WordPress is a new editor Gutenberg (Gutenberg) and the editing screen is puzzled a great change.It is wait though it seems to be able to use Elementor at present.
Well, WEB design can be very easy Elementor, but I think many people do not know what to set first.
This time I will explain the settings.
First, install WordPress on the rental server.
How to install to the rental server, please search here.
Google search "Sakura rental WordPress Inst
allation" https://goo.gl/MC
Zp1sGoogle search "x server WordPress Install
ation" https://goo.gl/BntLua
WordPress Admin Screen > Plugins > add new "Elementor" to search.Install and activate.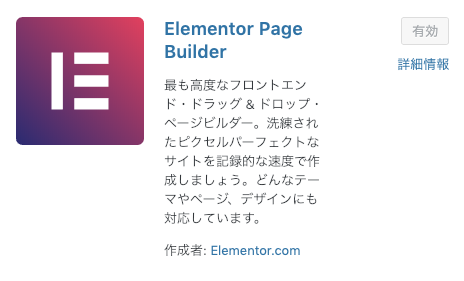 A button called "Edit in Elementor" appears on a fixed page or post page.

For example, if you do not want the Elementor to appear on the post page, you can remove the "post" check from the post type from the admin screen > Elementor > settings, and you will not be able to edit Elementor on the Post page when you save the changes.
Post Page > add new
Select the Edit in Elementor button to start the Elementor.
When it starts, the page layout is set to "Elementor canvas" from the "setting" button in the lower left.


Now that the white screen is displayed, I will make a WEB design using Elementor.First, let's use the headline widget for reference.
Elementor Heading見出しタグをデザインする!
Once you've created a headline, select the Publish button in the bottom left.You can preview the current design status in a separate window by selecting its left eye icon.If you set up this window, you can edit the design and select the "Update" button to automatically reload and confirm the change.